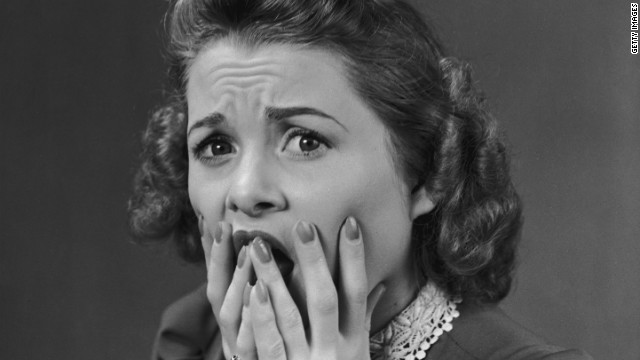 I have a number of things I'm basically afraid of. I'll bet you do, too. Snakes are high on my list. Most of us wonder if terrorism will end up in our town or city's backyard. It's natural to be pretty nervous. While I'm confident in my faith in God and that I'll see Heaven someday, I'm still a bit fearful of what dying is like, at least the unknown parts right now.
And healthy fears of getting hit by a car or struck by lightning can help us taken necessary and wise precautions to avoid the worst. All fear isn't bad.
However, some fear in a home can be debilitating, destructive and emotionally painful.As parents we would be wise to think about those kinds of fears and try to avoid them. Let me suggest a few.
The
fear of failure.
While our kids may not care much at first, many parents hate to see their child make a mistake, not get on the team or give up on a project or endeavor. To those parents their child's lack of succcess means they as parents aren't a success either. So they push harder or at best have trouble hiding their disappointment in their child. And trust me they notice and probably will become fearful themselves of not measuring up.
The
fear of what others think.
This can be exasperated when failure looms, but it can also result when we constantly compare ourselves with others. We don't have as much house, money, fame, social connections or power. So we're not OK in our minds and soon our kids begin to believe it as well..
The
fear of other people.
Yes, only a few will be totally non-social. That's unusual. But sometimes we can allow our kids to never learn to connect with adults or new people or anyone not quite like them. Other parents teach kids to think that everyone in their world is out to get or hurt them. What a dangerous allowance in a world where someday social interactions and trying new things in relational contexts will be essential to succeed and relate in the culture.
The
fear of having fun.
Many kids today are being pushed harder and harder as I alluded to earlier. But a corollary emotion and response can be the sense that to have a good time is never OK. Only working harder is acceptable here. And while most kids deep inside still want to have fun, they find themselves always wondering if mom and dad are listening or know that they are anything but totally serious about succeeding.
There are of course other fears that I don't have time to explore now. But the bigger issue is,
Is our home a safe place for kids to grow, be stretched and even fail?
If not, why not? What are you possibly helping by making the accepted landscape in your family one of only hard work, determination and outdoing their best friend?
Yes, we need to model and encourage that we all do our best. And yes, even the Bible suggests that we should love God and others
with all our heart.
But fear will never be the best motivator. Imagine what your work experience would be like if your boss motivated you only with fear (and some of you no doubt CAN imagine that.)
Be sure that you are wise and reasonable in your expectations. Have fun. Celebrate victories, of course, but also celebrate trying hard, doing something unique and even failing after doing your best. Keep fear protective, yes, but not preventative of healthy, wise, fun life at your house!