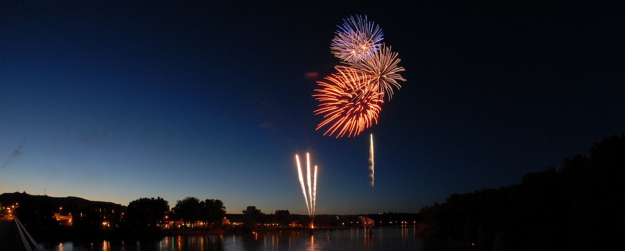 This past weekend we attended some outstanding fireworks in a wonderful little town near our home in Princeton, IL. The atmosphere was festive, the people were all having a great time, the fried foods were in abundance and the anticipation for several hours prior was electric.
Near us were numerous children running, playing and just having fun. However, one mother nearby was locked into her cell phone for nearly three hours. Her two daughters were being little girls and having a great time but mom never noticed and only engaged with them when they apparently bothered her.
At one point "Elmo" showed up eager to have pictures taken with him and to cause the little ones to squeal with delight. In fact, at our friend's urging he came right up to this family and made a point to interact with the little girls who were of course thrilled.
Mom never noticed or took a picture.
How sad.
I wonder how many special, fun, spontaneous moments we parents miss because we're too preoccupied with our own little world - the phone, the tech, the urgent. Yes, we can go to the other extreme and make our kids the center of our universe, hover over their every move and do everything for them that they desire.
But we all must be careful to not miss those unplanned, carefree moments like the fireworks when there was no agenda, record to be broken or performance to be evaluated. This mom had an opportunity to make a memory, one that those girls will remember, one that the mother could have embraced and engaged.
But apparently her wall or the news was more important.
This summer, especially when our kids are around a bit more, take time to enjoy the moments, those special times when your kids are just kids. Those times won't be here forever and someday you will cry that they are gone.