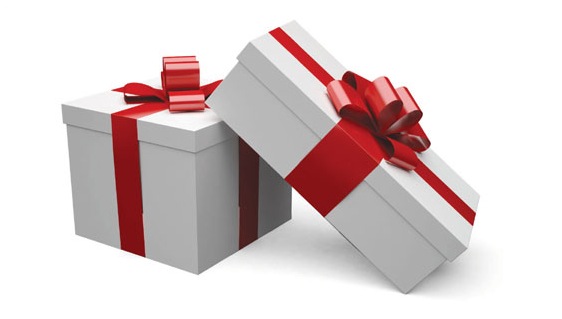 I can think of all sorts of special gifts I've received down through the years. Of course, like most of us, I got most of them when I was a kid. I'll never forget the electric train cars, sports equipment, electronic games (yes, there were a few when I was young), the cool clothes (at least I thought they were), a special Bible or book and a host of other gifts that I longed for so badly.
We all had that present, too, that our parents gave us
last
that we knew was the big gift. But there are very few of those that I want again now. In fact, I really don't long for any of them.
But there are a lot of gifts I wish I could enjoy again that I simply won't ever have. And they remind me and I hope you that we need to cherish similar gifts now while we still have them. It's so easy to just rush through the most special moments of all because we're wrapped up in the tyranny of the urgent or trying to do it all when only a few things matter.
For example I wish that I could again have:
My kids be little again for even an hour.
My wedding day with my young bride.
A morning with my dad or father-in-law.
A moment or two or a cup of coffee with some of my childhood heroes and mentors.
A Christmas as a young kid with my mom, dad, sister and any other relatives who decided to show up that day.
A game of basketball or catch with my teenage son.
A weekend back at college with my good buddies.
A date with my daughter in elementary school.
A school program, sporting event or awards ceremony.
An evening with our whole family at home together.
A day of playing baseball with my neighborhood friends.
A morning with my church friends from a bunch of years ago.
A snow day.
My first climb of a fourteener in Colorado.
The day our son or daughter or grandsons were born.
A conversation with Al or Don or one of many other friends now in Heaven.
A family vacation.
My list could be much longer. In fact, I'll probably put a more extended one together just for me. The problem with doing it now is that every entry brings tears to my eyes both of joy and sadness.
So what's the point? It's pretty simple. Enjoy every special moment now. Savor them. Slow down. Be thankful. Don't rush them and please don't wish them away even though some of these moments came with pain, hardship or challenge. Some of us still have these moments in front of us. Watch for them. Be ready. Relish every one.
We live such faced-paced, driven lives it's easier and easier to miss the great moments because of the quantity of mediocre ones.
They are still gifts. All of them. Gifts you'll someday wish you could have again.